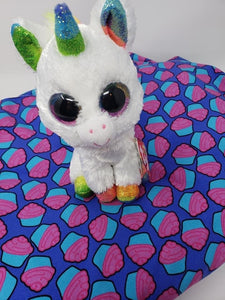 PreOrder Munch's Cuppy Cakes Tootsies
Regular price $33.00 Sale
Please read carefully! You will need to select the correct size bracket (check below for size bracket details) for your size desired. If you do not choose the correct one, you will not be charged correctly and I will refund your order. 
Stitching time is about 4 weeks. 
This listing is for all sizes and styles I offer. Please measure your little ones foot flat on the ground for a proper measurement. For walking babes add 1/2" to their foot length and get that size. If you have questions feel free to message me on Facebook or email me at totallytootsies@hotmail.com I am more than happy to help with any questions you have! 
Each pair is made with a cotton lycra outer and a polyester fleece inner. Size C and up will come with a durable rubber non slip sole. Each pair will have a coordinating color circle snap. If you would like a non slip sole on a smaller size please contact me. You can also add a toe guard at no extra charge!  

***Baby sizes***
Size Squish-measures 3.75"
Size A-measures 4" 
Size B-measures 4.25" 
Size C-measures 4.5" 
Size D-measures 4.75" 
Size E-measures 5"
Size F-measures 5.25" 
Size G- measures 5.5" 
Size H-measures 5.75" 
Size I-measures 6"
***Big Kiddo Sizes***
Size J-measures 6.5" 
Size K-measures 7" 
Size L-measures 7.5" 
Size M-measures 8" 
Size N-measures 8.5" 
Size 5-measures 9" 
Size 6-measures 9.5" 
Size 7.5-measures 10" 
Size 8.5-measures 10.25" 
Size 9.5-measures 10.5" 
Size 10.5-measures 10.75" 
Size 12-measures 11"