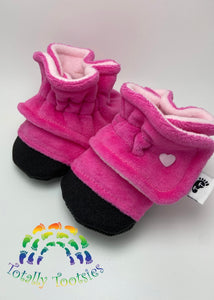 Love is in the Air! Valentine's Preorder-ALL SIZES
Regular price $33.00 Sale
This listing is for ALL SIZES of Shorties(as pictured), Midway and Tall Boots. Made with hot pink cotton velour outer, light pink polyester fleece inner. Size C and up will come with a durable rubber non slip sole. You can add a toe guard (as pictured) or get one without.  Each pair will have a light pink heart snap or if you prefer a circle snap, please message me. If you would like a non slip sole on a smaller size please put that in the notes at checkout. 
Size Squish-measures 3.75"
Size A-measures 4" 
Size B-measures 4.25" 
Size C-measures 4.5" 
Size D-measures 4.75" 
Size E-measures 5"
Size F-measures 5.25" 
Size G- measures 5.5"  
Size H-measures 5.75" 
Size I-measures 6" 
Size J-measures 6.5" 
Size K-measures 7" 
Size L-measures 7.5" 
Size M-measures 8" 
Size N-measures 8.5" 
Size 5-measures 9" 
Size 6-measures 9.5" 
Size 7.5-measures 10" 
Size 8.5-measures 10.25" 
Size 9.5-measures 10.5" 
Size 10.5-measures 10.75" 
Size 12-measures 11" 
----Select which style you would like....
Shortie Boots-It's a short boot! Keeps those ankles warm! Hidden elastic wraps all the way around those little ankles! They stay on securely with one set of snaps! 
Midway Boots-It's 1" taller than those Shorties! Same awesomeness!! This style also has one set of snaps! 
Tall Boots-It's a tall boot! These boots are best for keeping those tootsie and lower legs super warm! They are equipped with elastic and 2 sets of snaps. 
----Select the correct size bracket (check below for size bracket details) for your size desired. (If you do not choose the correct one, you will not be charged correctly and I will refund your order.) How do I figure out the correct size needed you ask? Well let me tell ya......
----Measure your little ones foot flat on the ground for a proper measurement. For walking babes add 1/2" to their foot length and get that size. 
----Stitching time is about 4 weeks. 
----Here's a little bit about the product.... 
----If you have questions feel free to message me on Facebook or email me at totallytootsies@hotmail.com I am more than happy to help with any questions you have!