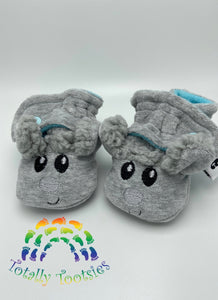 "Farm Series" Sheldon the Sheep Shortie Boots---All Sizes
Regular price $40.00 Sale
This listing is for these adorable sheep shortie boots in all the sizes I offer. Each pair will have a little sheep face embroidered onto the toe of the shoe and ears securely attached into the seam of the shoe. 
Stitching time is about 4-8 weeks.  
Please measure your little ones foot flat on the ground for a proper measurement. For walking babes add 1/2" to their foot length and get that size. If you have questions feel free to message me on Facebook or email me at totallytootsies@hotmail.com I am more than happy to help with any questions you have! 
Each pair is made with a light grey cotton velour outer and a aqua polyester fleece inner. Size C and up will come with a durable rubber non slip sole. Each pair will have a coordinating color circle snap. If you would like a non slip sole on a smaller size please contact me. 

Size Squish-measures 3.75" fits newborns
Size A-measures 4" fits 0-3m
Size B-measures 4.25" fits 3-6m
Size C-measures 4.5" fits 6-9m
Size D-measures 4.75"  fits 9-12m
Size E-measures 5" fits 12-18m 
Size F-measures 5.25" fits 18-24m
Size G- measures 5.5" fits 24-30m 
Size H-measures 5.75" fits 30-36m
Size I-measures 6" 
Size J-measures 6.5" 
Size K-measures 7" 
Size L-measures 7.5" 
Size M-measures 8" 
Size N-measures 8.5" 
Size 5-measures 9" 
Size 6-measures 9.5" 
Size 7.5-measures 10" 
Size 8.5-measures 10.25" 
Size 9.5-measures 10.5" 
Size 10.5-measures 10.75" 
Size 12-measures 11"